Home
"Professionally installed or refinished Hardwood Flooring can dramatically increase the beauty and value of your home."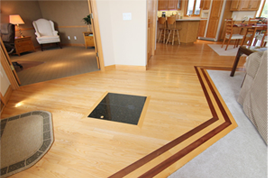 Imperial Wood Floors has been serving the Madison, WI area since 1992 with installing new hardwood floors, refinishing wood floors, repairing wood floors and more. We feel a responsibility and take pride in maintaining the rich wood crafting tradition and pledge to bring you the finest floors that will add enduring value to your home. We have installed and refinished wood floors for hundreds of satisfied customers. Click here to see what our customers have been saying.
Imperial Wood Floors offers services such as new installation of wood floors, re-finishing / repairs on existing wood floors, and wood floor maintenance programs. We can also add unique accents to your new or existing wood floors with eye-catching borders and medallions. Our experienced staff take the time to listen to what type of hardwood floors you want, as well as assist you in determining what hardwood floors and finishes are best for your household and the way you live.  We take into account pets, traffic patterns, UV exposure from windows, moisture, how the room is used and more to make sure your hardwood floor will stand up to time and add value to your home.
We offer a different experience for the Refinishing of your hardwood floors; a Full Dust Containment System.
Just moved into a new home and need to refinish your floors, or remove old carpet and install new floors? Call us and we can get your new home looking great again! Putting your home on the market? Let us refinish your floors so it sells faster and for more money! Wood floors look great in professional real estate photos, so invest in your home. Afterall, it's one of the areas that you get a return on your money, plus it looks great, plus feels warm and comfy.
Call us today and we can help make it look better than ever!
Contact us directly on our new mobile dispatch and we'll get back to you right away!
In WI: Dane Co. - Madison, Verona, Mt. Horeb, Mt. Vernon, Cross Plains, Mazomainie, Middleton, Waunakee, Sun Prairie, Marshall, Cottage Grove, Stoughton, McFarland, Oregon, and more.